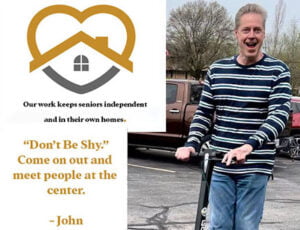 Meet John, our first interviewee for our Golden Anniversary spotlight on Seniors.
It wasn't until about two months ago that John discovered that the Monett Senior Center actually served lunch. Since, he's been a frequent flyer (well, rider). He loves the food and the staff, especially the fun ladies that work in the kitchen. "It's a social situation [to be able to meet new people]," he says.
John only lives a mile and a half from the center, which saves him money on food – and time doing dishes – he said. Lunch is the main reason John visits. "They provide a very well-balanced meal." Music is another interest of his and he would like to see more of it offered. Getting out of the house is very important for mental and physical health. The center provides a great place for people to gather, a great offering for the senior community. He advises other not to be shy about new social situations. Everybody I have met at the center is friendly and accepting. "Don't be shy," says John.
Other activities of interest include motorcycling, swimming and biking. He would like to get back into golfing, too.
Glad you are having fun at the Center, John!