Are you looking for a way to make a difference in your community? Whether you have just a few hours a month or a few hours a week, you can make a significant difference in your community by volunteering through SeniorAge and our partnering Senior Activity Centers. Check out the volunteer opportunities listed below or call (417) 862-0762 to find out how you can get involved.
You can also link to volunteermatch.org to learn of other exciting opportunities within our organization.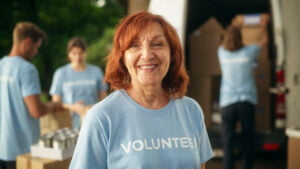 ---
As a volunteer, you will develop new skills, expand your social network, and enjoy benefits like:
Flexible hours
Training and ongoing staff support
Mileage reimbursement
Liability insurance
---
Volunteer In One of Our Senior Activity Centers
Our Senior Centers allow volunteers to find meaningful opportunities to help people in their communities by assisting in areas that make an impact in our daily operations. Each of our 36 senior centers relies on volunteers for day-to-day operations and to provide assistance and expertise in the areas of education, fundraising, fitness, wellness, nutrition, and recreation.
Kitchen and Dining Room
Setting up and maintaining the beverage station.
Serving as hosts in the dining room.
Packaging meals for home delivery.
Counting daily meal contributions.
Delivering hot and frozen meals to at-risk seniors in their own homes.
Washing dishes and cleaning the kitchen.
Serving lunch.
---
Home-Delivered Meal Drivers
This volunteer opportunity offers you the chance to make a difference in the lives of the frail elderly as you deliver hot meals each weekday. The delivery also gives you a chance to check in on our homebound seniors to ensure they are all right. You may be the only person they see in a day and your smiling face is a reminder that someone cares.  We maintain flexible schedules, all you need is commitment to serving others.  Mileage reimbursement is also available.
---
Wellness Coaches
Our wellness coaches can train you to lead exercise programs targeted specifically to seniors, people with limited mobility, or those living with arthritis. You need not be a fitness buff, and leading these courses could give you the motivation and discipline to improve your own fitness.  Programs include Matter of Balance/Falls Prevention, Diabetes Education, Chronic Disease Self Management Programs, and Walk with Ease.
---
Program Assistants and Greeters/Front Desk Attendants
If you like to meet and greet people, consider volunteering at the front desk of your local senior center. If you have a particular interest in one of our programs (Medicare counseling, nursing home ombudsman, tax counseling, arts and crafts, etc.) we have a place for you.
---
Other SeniorAge Opportunities Available
Silver-Haired Legislators
Individuals have the opportunity to serve as the SeniorAge delegation to the Silver-Haired Legislature, a volunteer group of individuals who advocate for seniors while the Missouri Legislature is in session. The delegation meets in August of each year to determine the five most important legislative priorities in this area and then joins the larger Silver-Haired Legislature in Jefferson City in October to determine the five statewide priorities. The Silver-Haired Legislature aims to keep the priorities of older Missourians at the forefront of Missouri's lawmakers' decision making.
---
Administrative
SeniorAge continues to seek volunteers in the areas of Tax Counseling, administration, and board positions. Call 417-862-0762 for opportunities and information.